Welcome to lampshademaker.com
Hannah Murphy Hand Sewn Victorian Lampshades
You've come to the right place for replacement Glass Lamp shades, Victorian lampshades, ready-made Silk lampshades, Hardback lampshades, Wood lampshades, Victorian lampshade frames, Vianne glass shades, Pool Table & Pendant fixture replacement lampshades, Industrial Style Pendant Lights, lamp parts, Sockets, Onyx & Marble, hardback lampshade materials, custom Victorian lampshades, floor lamps & bridge lamps, bridge lamp shades, Stiffel torchiere lamp replacement glass, antique lamp parts, vintage lamp parts, uno frames, Victorian sugar shades, lamp finials, lampshade restoration and silk replacement shades.
Scroll down for many more links to anything related to lamps & shades.
All of our custom lampshades are made in the U.S.A.!
Handcrafted Custom Lamp shades, Antique Lamp shades Re-Covered, Hardback & Silk Lampshades
LAMPSHADES HAND-MADE IN AMERICA!
We do not ship outside the continental United States.
Victorian Lampshade Frames & Lampshade Making Materials & Supplies
Victorian Lampshades & Lamps
Victorian Lampshades & Lamps, Brass Lamps, Replacement Lamp Parts
We accept

credit card payments directly
We also accept checks, money orders, or credit card payments through PayPal. Call us first to determine shipping & insurance charges.
We don't have a shopping cart or order form on our website on purpose.
We'd like to talk to you to make sure the items you order will meet your needs for your particular lamp project. If something is not the right size, Return shipments are costly for you and for us, so we want to make every effort to get it right the first time!
To place an order, call us toll-free,
Toll-free 1-888-640-5267
Our Not-Toll-Free shop phone is (360) 864-2945
9:00 a.m. - 6:00 p.m. Pacific Time Zone Monday - Saturday
Please note time difference of 3 hours between East coast and West coast.
9:00 a.m. on Pacific Coast is 12:00 noon on East Coast. I know - we learned that in elementary school!
You'll get answering machine before 9 a.m. Pacific Time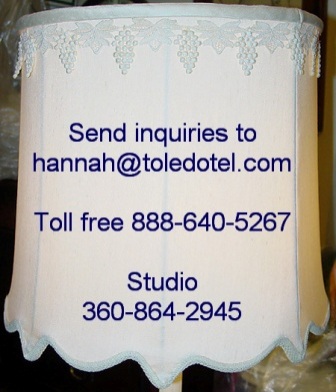 ---
Click this link to see many hand sewn Lampshades in stock, ready to ship
Custom-sewn Silk Lampshades

Lamp Parts for Restoring & Building:

Large Custom Lampshade for floor lamp
Pair Victorian Lamps
Custom Design Lampshades Page 1
Custom Design Lampshades Page 2
Brass, Bronze, Cast Metal & Onyx Lamps

Custom Design Lampshades Page 3

(includes hand-sewn Wall shades)

Lamp Replacement Glass

Custom Design Lampshades Page 4
Capodimonte-style Lampshades

Reverse-Painted Glass Lampshades

Stiffel Torchiere Replacement Glass shades

Student Lamp Glass Lampshades and for painting your own heirloom glass lampshades

More Hand-Sewn Victorian Lampshades
Torchiere Glass Shades & Holders

Tulip & Flower Petal Shades - New Lower Prices!

Victorian Lampshades & More Victorian Lamps

Lamp Finials Strass & Swarovski Crystal, Onyx, Jade, Murano Glass, Sports, Birds & Animals, Capodimonte Porcelain Rose, Hand-carved wood biplane, Christmas finials

Brass Finials & Clip-Top Adapters

Finial Reducers, Risers and blank Finial Bases

Teddy Bear Santa Finial $12.00

Click to enlarge

Vianne Glass - French Made Going Fast!

Reflector Bowls & Other Glass Shades Index

Glass Lampshade - Closeouts - Discontinued Items Save 30% or more on overstock

Dragon Bridge Lamp $389

Lancelot uno shade $159

click here to see more pictures of Dragon Bridge Lamp

click here to see more versions of the Lancelot shade

Lamps & Lampshades Restored

Lamp Shades Restored, Before & After Pictures (Silk and Hardback shades)

Hardback Lampshades

Styrene Hardback Lampshades

Hardback Lampshade Kits Make Your Own Lampshades

Lampshade Material for Hardback Lampshades

DISCONTINUED - SHIPPING COST TOO HIGH

Wood Lamps & Hardback Lampshades
Bridge Arms & Floor Lamp Components
Floor Lamp Columns & Breaks
Crystal Lamps - Limited Supply
Bronze Torchiere Lamps - Unique Deco!

(New) "Lost Wax" cast bronze

Special Project: Phono Lamp Shade

How to Make Lampshades

Instruction Book "Creating Elegant Lampshades for Fun & Profit" by Nadine Redfield - now back in stock.

How to Make Victorian Lampshades

How to Make Victorian Sugar Shades

Instruction videos & DVD's by Mary Maxwell

Lampshade Frames: Over 3,000 in stock!

Partially updated Lampshade Frames Directory

Bead Fringes for Lampshades
Lampshade Cleaning
Lampshade Trims, Fabrics & Supplies
Other Possibilities

Lampshade Frame Catalog now 23 pages!

Explanation of types of Lampshade fitters (bottom of this link)

Scalloped Tiffany
(New frames on Page 1) more on page 23
Chandelier Drum Shade Project
Small Lampshade Frames
Mermaid Art by Caleb
Large Lampshade Frames
Unique Projects
Simple Lampshade Frames
Corner Garden Project
Lampshade Frame Choices for Large Table Lamp
What does "Made in America" mean to us?
Special Order Frames
Victorian Style Metal Table Lamp Bases
Capodimonte lamps & Vintage Porcelain Lamps
Our Company History

Sale Items:

Click this link for:

Other interesting links:
formerly known as Across-The-Board Woodworks tm

Toledo, Washington

Shop Phone: (360) 864-2945

I'm available Monday - Saturday at the shop number. If you get the answering machine, please leave your phone number with area code, and a brief message. I'll call you back if you say what is a convenient time for you. There are 3 hours' time difference on the East coast, and I don't want to call after a reasonable hour.

Lampshade Studio & Office Phone: (360) 864-2074

Fax: (360) 864-2074
---
Updated 11/13/14