Lamp Parts & Lamp Hardware Index
Hannah Murphy Lamps & Lampshades
Across-The-Board Woodworks
"No one after lighting a lamp puts it in a cellar, but on the lampstand so that those who enter may see the light." Luke 11:33
Toll-free 1-888-640-5267
Hard-to-find lamp parts for restoring antique and vintage lamps, or building new lamps
Most of these items are in stock, but if we have to order something special, it takes about a week.
We Do Not Offer a Printed Catalog of Lamp Parts because of constant changes by suppliers.
Click on any blue link below to go to thumbnail pictures of our suppliers' catalogs. This saves loading time, but be sure to click on the pictures to enlarge so you can read the details.
Note on Thread Sizes for Pipe, Nipples, & Harps
Most Harp Tops and finials are threaded "1/4-27" which is the industry standard for 1/4" outside diameter post.
Table lamp pipe, socket caps, and some finials are "1/8 IP", industry standard 3/8" outside diameter.
Floor lamp pipe & bases, and clusters are "1/4 IP", industry standard 1/2" outside diameter.
We accept

credit cards directly. We also accept other credit card payments only through PayPal. Call first to determine shipping costs.
We also accept checks and money orders. To place an order, call us toll-free, 1-888-640-LAMP (5267)
9 a.m. - 6 p.m. Pacific Time zone
send email to: hannah@toledotel.com
We don't have a shopping cart or order form on our website on purpose. We'd like to talk to you to make sure the items you order will meet your needs for your particular lamp project. If something is not the right size, Return shipments are costly for you and for us, so we want to make every effort to get it right the first time!
WARNING!
Caution: Electrical Hazard!

Important! You must remember that before you attempt to fit, replace, or remove any of the parts on an electric lamp or fixture you must always disconnect or unplug the lamp or fixture from any source of electricity before you begin. Simply turning the lamp "off" will not protect you from an electrical shock.

If you are not sure how to safely disconnect your lamp or fixture from its electrical source, you should contact a licensed electrician or your local power company for further instructions
LAMP PARTS & HARDWARE INDEX
Antique & Vintage Lamp Parts

Just added - Bradley & Hubbard original table lamp (see page 2 of Antique Parts)

Our antique & vintage parts are nearly sold out, but we're constantly adding new stuff.

Arms (Scroll down for Bridge Arms)

Bases for Table Lamps

Bases - Marble, Onyx, Wood Bases

Bases for Floor Lamps

Bead Fringe - Glass & Acrylic

Before & After Lampshades Restored

Books - How to Make Lampshades

Bobesches - Brass, Crystal, Glass

Brackets for Wall Sconces

Breaks - Brass, Cast Metal, Crystal, Onyx, Marble & Glass

Bridge Lamp Shades (Victorian & traditional)

Bridge Arms Brass, Cast Metal & Iron Ten NEW brass bridge arms in stock

Candle Cups & Candle Covers - Discontinued (still a few in stock)

Crystal - Prisms, Breaks, Spears, Lamp Bodies, Columns, Finials

Crystal Ball (break for floor lamp)

Diffuser or Reflector Bowls


Felt - Self-adhesive, for lamp bottoms


Finials - Brass & Bulb-Clip Adapters

Finials & Adapters - Crystal, Die Cast, Wood Ball, Sports & Novelty, NEW Christmas Santa Claus Finials

Flexible ArmsFloor Lamp & Bridge Lamp Parts everything you need to build or repair a floor lamp, bridge lamp, cluster lamp, or torchiere lamp

Metal prices have skyrocketed - call for current prices

Replacement Ball shades, Slant shades - Pool Table shades, Vianne Glass, pendant shades, cone shades, hurricane shades, ceiling fixture shades, & IES reflector bowls, tulip shades & tulip holders, cranberry glass, ruby glass, Emerald Green or Marine Blue banker's lamp shades, gas shades

Glass Lampshades for Student Lamps

Glass Lampshades for Bridge Lamps

Glass Replacements for Torchiere Lamps

Industrial Pendant Lights with Metal Shades


Lamp Kits

Custom designed Torchiere Lamps


Lampshade AdaptersLampshade Frames - for making your own lampshades

Lampshade Frames Price List

Lampshade Instruction Videos, Books
Oriental Lamp Bases

Pipe, Threaded Steel & Brass

Pipe Size & Thread Size Chart
Rosettes (Brass)Spindles

Sockets

Stiffel Torchiere Lamp Replacement Glass
Styrene Materials to make your own shade

Switches (Rotary Switches)
Swivels for Bridge Lamps

Torchiere Glass Shades & Holders

Tubing - Brass & Aluminum

Vase Caps -Brass or Wood

Vianne Glass replacement shades imported from France

Mica Lampshades

Miscellaneous Fittings - Bushings, Nozzles, Washers, Reducers, Locknuts, Knobs & Loops, Necks, Nipples, Screws, Nuts


Reverse-Painted Glass Lampshades

Victorian Lamp Bases, Handel & Tiffany style reproductions

Victorian Lampshades - hand sewn, custom made just for you

Instruction Videos - "How to Make Victorian Lampshades" by Mary Maxwell

New video available: How to Make Victorian Sugar Shades

Kits are available for these 3 shades. Call for prices.

If we don't stock it, we can get it within a week if it's still being made today. We are constantly adding to our inventory and updating pictures, prices, etc. Please come back often, and call if we can be of help.

Call us for anything you don't see here!

Toledo, Washington

360-864-2945 for inquiries

Toll-free 888-640 LAMP (5267) for orders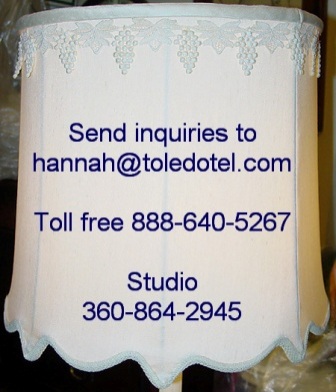 Back to Home Page