How to Make Victorian Lampshades Instruction Videos & Books
Lampshade Making Instruction Book
Creating Elegant Lamps & Shades For Fun & Profit, by Nadine Redfield
TO ORDER, CALL TOLL-FREE, 1-888-640-LAMP (5267)
Lamps are the light and life of every room. Discover how easy it is to enhance your rooms with this complete introduction to the art of making lampshades. Many creative project ideas are presented in this illuminating book. You will learn how to cover, line, and trim an existing lampshade, as well as create your own distinctive lamps and shades in a variety of stunning styles. Clear, concise, and easy to follow instructions and illustrations will make it easy. For the designer and decorator, the silhouettes of lamps and the shapes of lampshades are named and defined. A section shows you how each base and shade complement each other, so you can combine them using good design techniques. Learn how you can change the look of a room instantly with the versatility of lampshades. And if you are interested in selling your wares, a section on pricing your work is included. This comprehensive how-to will inspire everyone to experiment with the art of making lampshades.
| | |
| --- | --- |
| ISBN: | 0764317423 |
| Size: | 8 1/2" x 11" |
| Illustrations: | 150 color photos; 201 b/w Illustrations |
| Pages: | 160 |
| Availability: | Now Available |
| Binding: | Soft Cover |
| Cost | $29.95 plus shipping & handling $12.95 |
Back in stock
Click on photos to enlarge
"If you're serious about becoming a maker of exquisite lampshades, this is the only book you'll ever need! I especially like the 16 horizontally-split pages showing lampshade style on the top half, and lamp style on the bottom half. Just flip through these pages to see what works and what doesn't" Hannah Murphy
*************************************************
Lampshade Making Instructions
We have this on DVD only for $49
plus $7.50 insured Flat Rate Priority Mail shipping & handling
TO ORDER, CALL TOLL-FREE, 1-888-640-LAMP (5267)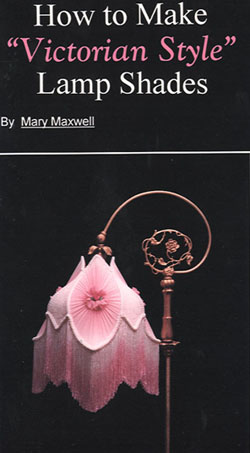 Two exciting instructional videos revealing lost-art techniques for making beautiful Victorian Lampshades. This is a very satisfying hobby, and can be turned into a very lucrative small business. It is not uncommon for customers to pay $300 or more for a custom, hand-sewn Victorian Lampshade for table lamp or bridge lamp. To take classes to learn this wonderful craft would cost hundreds of dollars, if you could find such classes being offered anywhere! With the videos, you can learn at your own pace, reviewing any part of the video when you want.
Mary Maxwell, the owner of Heart Enterprises, was a finalist for Craft Designer of the Year by Craft & Needlework Magazine. She has been designing Victorian lamp shades for over twenty six years. Her clients are coast to coast, and in both Canada and South America they view her lampshades as works of art! She also teaches her masterful techniques in step-by-step videos. All you need is basic sewing skills and the desire to create a beautiful and timeless Victorian style lamp shade for a fraction of the retail cost.
Learn the best materials to use (some work better than others)
How to measure & cut the fabrics for each unique panel.
How to pin & sew on the lining & lace panels
How to form the beautiful Silk Chiffon Rosettes
How to apply the decorative trims Bead fringe or long thick fringe Also the Custom Color Dyeing Technique is demonstrated Completely (so that you may add darker edges to both your Rosettes and Fringes) A technique that is very popular on Victorian Lampshades!!! This video shows how to make the "Victorian Beauty" lampshade shown below, from start to finish. (Click on the picture to see more detail.) A complete kit to make this lampshade is available.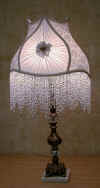 For more Victorian Lampshade ideas, click here: (New) Table Lamp Shades
This video has 12 Victorian Shades on it to give examples of Color combinations and designs. The video is like a class that you can review anytime and as many times as you choose. A catalog of supplies, including complete kits as well as decorative wire frames, hand strung bead fringes, silk chiffon, pretty trims, & a beautiful brass lamp completes your selection.
Note: American video tapes are not compatible with most foreign VCR's so we will only accept orders within the United States.
The following is available on DVD only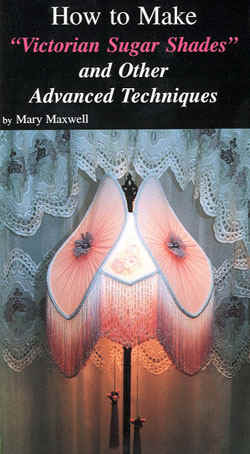 Learn how to create Fan Pleats, Inverted Rosettes, Quick Corner Pleats, Pulled off Rosettes. This video is reviving the almost lost art of Victorian Sugar Lampshades which originated at the same time as silk & lace lampshades began to decorate twentieth Century homes. This video has easy-to-follow instructions for adding the Sugaring Technique to your Victorian Lampshade Designing. Sugar Shades are not really sugar but tiny Glass Beads that are the size of sugar. These beads are spread on one or two panels, giving the shade a unique texture. The look is both elegant and visually exciting! There are 20 Lampshades displayed throughout this video. It was voted Best How-To Video for 1997 by the California Videographers Association. A Sugar Supply Kit is also available to help you create your Sugar Shade using the techniques in this video. (75 minutes)
Here are two complete sugar shades featured on the video:
(click on pictures to enlarge)
Left: "My Angels" for table lamp; Right: "Royal Loop" for bridge floor lamp. (Custom kits are available) For more pictures of Victorian Sugar Shades, click here: (New) Victorian Sugar Shades
TO ORDER, CALL TOLL-FREE, 1-888-640-LAMP (5267)
We accept directly

credit card payments.
Any other credit card payments can be accepted through https://www.paypal.com
Hannah Murphy Lamps & Lampshades
Toledo, WA
*******************
Instruction Books for Styrene (Hardback) Lampshades
Excellent resources for learning how to make hardback lampshades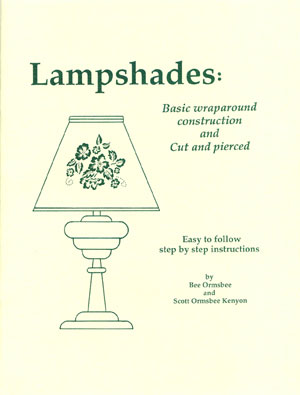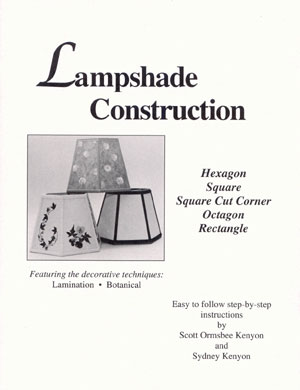 Lampshades $15
Lampshade Construction $15
Styrene & Hardback Lampshade Materials
Click here to home page: www.lampshademaker.com
Hannah Murphy Lamps & Lampshades
To learn more about Mary Maxwell's fine work, click here