Victorian Sugar Shades by Hannah Murphy
Almost a lost art, Victorian "sugar shades" are not really made of sugar, but tiny glass beads the size of sugar grains, applied to one or more panels of custom sewn lampshades. Striking results can be achieved with the endless possibilities, either formal, informal, or novelty lampshades. Almost any picture or decal can be used. For instructional video to learn how to make these beautiful lampshades, click here: How to Make Victorian Lampshades Instruction Video
Order line: 1-888-640-LAMP (5267) 9 a.m. - 6 p.m. Thursday-Sunday
Click on any of the pictures below to enlarge
Sugar shades are difficult to photograph because of the glare caused by the flash against the glass beads. The pictures may look distorted or "washed out". In reality, they are gorgeous!
Current estimated completion: 5 - 6 weeks.
Royal Loop Sugar Shade for Bridge Lamp
"Kristine" sugar shade with 'Sunrise' beads at points
Click on pictures to enlarge
Front: Glass sugar beads over cotton print, Victorian Girl holding Kitten
Back: Glass sugar beads over cotton print, Victorian Girl feeding Birds
White Silk Chiffon shirring in gallery, White Burn-out Velvet on sides with 6" variegated chainette fringe, and 'Sunrise' Bead fringe at each of the 8 points
$625 plus shipping & insurance
"Old Flowers" Victorian Sugar Shade
Designed and hand made by Hannah Murphy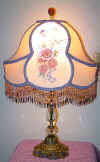 Click on pictures to enlarge
Creamy pastel yellow crepe, with front and back panels "sugared" with thousands of tiny glass beads over vintage Flowers & Butterflies decal. Trimmed with Periwinkle Blue scroll braid. Unusual glass bead fringe of periwinkle and lavender glass "cat's eye" and bugle bead fringe. Completely lined, hand sewn (only part glued is the braid, with special lampshade maker's glue).
$385 plus shipping and insurance
Only one available - materials not available to make another one just like it.
Shown on "Divine Light" crystal & brass lamp, sold separately for $289 plus shipping & insurance
Victorian Girls sugar shade on Grape frame with matching tassel pull-cord for bridge lamp $289
Blue Sugar on Le Elegance frame with Glass Bead Fringe $469
"My Angels" sugar shade, Provincial Oval frame
Based on Mary Maxwell's design

"Royal Loop" bridge lamp shade
click on blue links for details and price
Victorian Girl Sugar Shade on Honey frame
Front Side
Back Side
Cherubs Sugar Shade on #1550 frame - different cherub images on front and back
Birds of Prey sugar shade - SOLD

Pink Cherubs on #1550 frame
"Nicole" sugar shade, with Lilacs & Roses
Bird Lovers sugar shade on Napoleon frame

"Kristine" sugar shade with girl feeding chickens
Burgundy Roses, Irises decals
Summertime Roses and Pansies decals
We accept

credit card payments directly. Any other credit card payment can be accepted through PayPal at https://www.paypal.com. Call us first to determine shipping costs.
Back Home to Hannah Murphy Lamps & Lampshades