Lampshade Frame Adapters
Call toll-free 1-888-640-LAMP (5267) to place order or inquire about this or any other lampshade, lamp, lamp part, or lampshade question.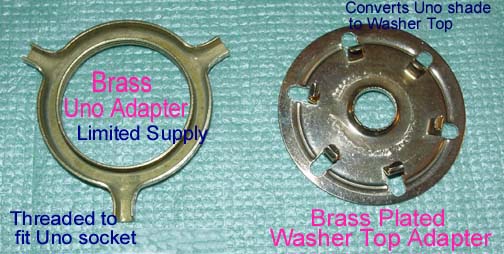 Left: Converts any 3-spider washer-top frame into a Uno fitter frame for bridge lamp $5.00 (limited supply)
Right: Converts any Uno-fitter frame to a Washer-Top frame for lamp with harp. $5.00
If you're using a standard washer-top fitter shade, you can convert it to a Clip-Top shade, with one of these $4.00 adapters, then you can use any of the standard 1/4-27 threaded finials

Click on picture to enlarge
Left: "Flame" or "Torpedo" for elongated bulb
Right: "Round" for standard light bulb
Hannah Murphy Lamps & Lampshades
We now accept

credit card payments directly. Any other credit card payment can be made through PayPal at https://www.paypal.com. Call us first to determine shipping and insurance charges.
Back to Home Page Across-The-Board Woodworks - Victorian Lampshades, Lamps & Lampshades
Order Line - Toll-free 1-888-640-LAMP (5267)