Custom designed Table Lamps
HANNAH MURPHY LAMPS & LAMPSHADES
Toll-free Order Line: 1-888-640-LAMP (5267)
Victorian lamps built in America! Great care is taken in selecting the best materials and components we can find in today's market, building lamps to your specifications. We use high-quality Italian brass when we can get it, but most of the time we use raw brass components which we "antique" and lacquer by hand. These aren't just "painted" components, but hand finished ourselves! You can clearly see the quality in these pieces!
"Divine Light"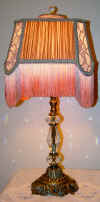 Elegant Swarovski Crystal with antique finish Solid Brass Components
17-1/2" tall to top of socket, 6" spread base
Lamp only - $289 does not include shade or finial
Strass® 20mm ball 168-faceted Crystal Finial on top not included with price of lamp. Sold separately for $22
"Loop" chiffon and re-embroidered lace overlay lampshade sold separately for $189
Click on pictures to enlarge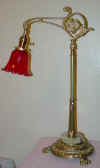 all deluxe brass components with 4"onyx insert $189
(Cranberry Dot Optic shade $50 extra)

all deluxe brass components with antique base, 4" onyx insert (shade not included) $189
Pompeii Ladies

(Click on pictures to enlarge)
**Base shown on lamp above has been discontinued... "Three Graces" Column still available
****************
Limited Supply Available

Three Graces Column only, $99 if sold separately
(Thumbnail pictures - click picture to enlarge)
click here for selection of Glass Student Shades
We accept

credit card payments directly. Any other credit card payment can be made through PayPal at https://www.paypal.com. Call us first to determine shipping charges.
PayPal does not compute shipping charges - Call first! 1-888-640-LAMP (5267)
Hannah Murphy Lamps & Lampshades
Toledo, Washington
Shop Phone: (360) 864-2945
If I'm with a customer, or running to the post office, you'll get the answering machine. Please leave your name and phone number so I can call you back. I'm available Monday - Saturday at the toll-free number. You can also send me an e-mail at: hannah@toledotel.com