Victorian Lampshades by Hannah Murphy
Superb-quality handcrafted in United States of America using finest materials available. Satisfaction guaranteed at reasonable prices and prompt service. Hannah works with you to design lampshades just for you. Most fabrics are custom-dyed to suit your wishes. Call toll-free 1-888-640-5267 for consultation.
Current estimated completion: 5 - 6 weeks.
More Victorian Lampshades Special Design Lampshades Victorian Lamps
Custom Lampshades Recently Completed Bridge Lamps & Floor Lamps Styrene Hardback Shades
Home: Hannah Murphy Lamps & Lampshades
These are only thumbnail views of the many lampshades created. Click on image to see larger photo. Name of the shade in blue is a link to the page with more pictures, description and prices. Name of the frame used is in parentheses.
If you're using Microsoft Internet Explorer, pictures may enlarge, and then suddenly revert to a small image. If this happens, hold your cursor over the image for a few seconds until you see a little orange box with blue arrows at the right hand corner. Click on this box and the picture will enlarge again. This is one of MSIE's little "pet peeves"! After you view the enlarged picture, click your BACK button to come back to this page.
We accept

credit card payments directly. Any other credit card payment can be made through PayPal. Call us first to determine shipping charges.
More Victorian Lampshades Special Design Lampshades Victorian Lamps
Custom Lampshades Recently Completed Bridge Lamps & Floor Lamps Styrene Hardback Shades
Home: Hannah Murphy Lamps & Lampshades
Click on this link to see our new "Gosford Park" series lampshades
Large Frames Lampshade Frame Prices Lampshade Frame Catalog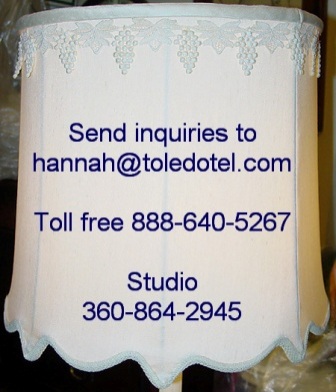 Hannah Murphy Lamps & Lampshades 1-888-640-LAMP (5267)
For all your lampshade needs, including lamp repair parts and shade frames