Victorian Lampshades Thumbnail pictures, pg 2
Superb-quality handcrafted in United States of America using finest materials available. Satisfaction guaranteed at reasonable prices and prompt service. Hannah works with you to design lampshades just for you. Most fabrics are custom-dyed to suit your wishes. Call toll-free 1-888-640-LAMP for consultation. Studio hours 9 a.m. 6 p.m. Leave message at other times.
Current estimated completion: 5 - 6 weeks.
send e-mail inquiries to: hannah@toledotel.com
Home: Hannah Murphy Lamps & Lampshades
More Links at bottom of page
Name of the shade is followed in parentheses by the name of the frame used.
Click on the pictures to enlarge; click on Name below picture for description & price. All dimensions are also shown on Lampshade Frame Prices link
Click on image to see larger photo.
Prices, descriptions, more and larger photos are on links below:
send e-mail inquiries to: hannah@toledotel.com
We accept

credit cards directly. We also accept other credit card payments only through PayPal. Call us first to determine shipping charges.
We also accept checks and money orders. To place an order, call us toll-free, or send e-mail to:
Home: Hannah Murphy Lamps & Lampshades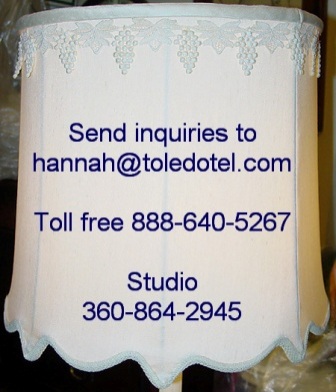 Across-The-Board Woodworks 1-888-640-LAMP (5267)
For all your lampshade needs, including lamp repair parts and shade frames