Lamp Columns for Floor Lamps & Table Lamps
Across-The-Board Woodworks
Toledo, Washington
Toll-free 1-888-640-LAMP (5267)
Columns for Floor Lamps and Table Lamps
- new unless otherwise noted
Metal prices have skyrocketed - call for current prices
Click on these images to enlarge
Lamp Columns

Leaf Column for Floor Lamp, 8" tall
Slips 1/4 IP Floor Lamp Pipe
Cast Metal, antiqued brass finish, #11427
$49
Below: 11421 on top of Onyx Donut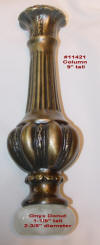 Click to enlarge
#11421 9-inch Cast Metal Column, slips 1/4 IPS pipe. (We call this the "Genie Bottle" column)
Antique Brass finish shown on left) $49
Bronze finish (darker) shown on right - $49
Click on pictures to enlarge
* * * * * * * * * * *
Left: Same column shown sitting on top of
2-3/8" x 1-1/8" Onyx Donut $15
Column $49
Click on pictures to enlarge

Click to enlarge
Antique Finish Cast Metal Column for Table Lamp
11-3/4" Height, 1-1/2" Top, 2-1/8" Bottom
$53.00
See Matching Base at this link: Lamp Bases
See Complete lamp at this link: Victorian Style Metal Lamp Bases

Cast Metal Rope Columns, antique brass finish
Large: Top 1-1/8", Base 3", 15" tall M836
Small: Top 1", Base 2-7/8", 12" tall M832 (DISCONTINUED)
Square Column, gold finish, 15-1/4" tall, Top 1-1/8", Base 3" (only 1) M1196
"Three Graces" Column, Cast Metal, Antiqued brass finish. 11" tall, Base 3-1/2" $99.00
This column is back in stock
with antique finish;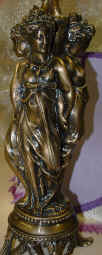 Can be used for either table lamp or floor lamp

Complete lamp
(this bottom base has been discontinued)
(glass shade shipped separately)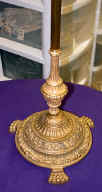 "Lion's Feet" - High quality Brass four-part base assembly for floor lamp with size 1/8 IPS pipe.
E-5350 Top column 4"
E-5351 Center Cup
E-5165 Center CAP
E-5310 Bottom Base

Heavy High Quality Cast Italian Brass Break and Column for Floor Lamp or Bridge Lamp, slips 1/4 IP pipe.
Brushed Brass Column #50222KL height 7-1/2", top diameter 1-3/8", bottom diameter 1-1/2"
Brushed Brass Break #50252KL 3-1/2" high, inside top diameter 1-3/4", bottom diameter 2"
Also available in high polished brass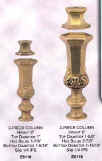 2-piece Cast Brass Columns, slip 1/4 IPS pipe
Left: 6" height, 1" top diameter, hex bulge 1-7/8", bottom diameter 1-5/16" #E5116
Right: 9" height, 1-5/8" top diameter, hex bulge 2-7/8", bottom diameter 1-15/16", E5118

Cast Brass
Left: E5118 described above
Right: E5467 9-3/4" tall. Top Seat 1.5", Bottom Seat 2-3/8", Bulge 2-1/4" Top Slips 1/4 IPS pipe.
Columns for Table Lamps (fit 1/8 IP pipe)

Die Cast Brass Column for 1/8 IP pipe 10403U (unfinished)
6-1/2" tall x 1" top diameter x 1-1/2" bottom diameter
(click on picture to enlarge)

M1032 Cast Column, antique brass finish, slips 1/8 IPS.
8-1/4" high, Top 1", Base 1"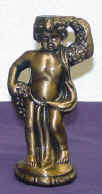 Cherub Column for Table Lamp, Cast Metal, Antiqued brass Finish. 6" tall, Base 3-1/8", Slips 1/8 IPS
M1631 Only 1 left $19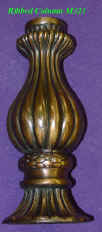 M321 antique brass finish
8" Die Cast Metal Ribbed Column
Top 1-1/2", Base 3", slips 1/8"
Only 2 left $29 each
We accept

credit card payments directly. Any other credit card payment can be made through PayPal. Call us first to determine shipping and insurance charges.