Bases for Floor Lamps
Floor Lamp Bases from Hannah Murphy Lamps & Lampshades
Table Lamp Bases, Floor Lamp Bases, Lamp Replacement Parts, Lamp Parts in stock. If we don't have it in stock today, we can usually get what you're looking for within a week or 10 days. Call if you're looking for a particular lamp base not shown here. Visit our other links on the home page for other lamp parts and beautiful custom lampshades and Victorian lampshades for table lamps, Bridge Lamps, and floor lamps. Satisfaction guaranteed. Made in the USA!
Floor Lamp Bases
Click this link for Lamp Bases for Table Lamps
We accept

credit card payments directly. Any other credit card payment can be made through PayPal at https://www.paypal.com. Call first to determine shipping charges.
1-888-640-LAMP (5267)
Metal prices have skyrocketed - call for current prices
Limited Selection of Floor Lamp Bases
Click on pictures to enlarge to full size
Iron, Brass, Cast Metal Floor Lamp Bases
Descriptions below
Click on pictures to enlarge
#10075 Footed Floor Lamp Base, antique brass finish cast metal. 6" inset, 2-1/4" high, 12-1/4" diameter, slips 1/4 IPS, weighs 5 lbs.,
Available in antique finish Steel, or antique finish Cast Metal
Takes #14321 6" Flat Round Onyx Insert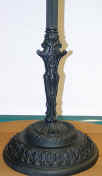 Satin Black Cast Iron Column and Base.
Column #11410i 9-1/4" high, slips 1/4 IPS
Base #10070i 10" x 3-1/2" high, tapped 1/4 IPS weighs 6 pounds 3 ounces
click on picture to enlarge to full size
Unfinished Cast Brass Base (center hole 3/8" slips 1/8 IPS pipe), seating diameter 1-1/4", 12" width $90.00

E5462 $90
Only one left - can't get them any more
Italian Brass components - Discontinued - Only one of each left in stock
click on picture to enlarge to full size
Heavy High Quality Cast Italian Brass Break and Column for Floor Lamp or Bridge Lamp, slips 1/4 IP pipe.
Brushed Brass Column #50222KL height 7-1/2", top diameter 1-3/8", bottom diameter 1-1/2"
Brushed Brass Break #50252KL 3-1/2" high, inside top diameter 1-3/4", bottom diameter 2"

60881
click on pictures to enlarge to full size
Lion's Foot Base configurations
click on pictures to see larger images
First picture on the left is Antique Brass finish for $10 extra
The dull color shown on Right above is Unfinished Brass; the middle one is Polished & Lacquered for additional $10 per piece).
All pieces in stock in Unfinished Brass
Other components that can be used with the E-5310 Base are shown below.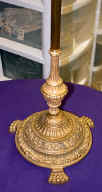 "Lion's Foot" - High quality Brass four-part base assembly for lamps with size 1/8 IPS pipe. Note: These pieces can be modified to fit 1/4 IPS floor lamp pipe by drilling the center hole larger.
E-5310 Base only, 9-1/2" spread, 2-1/2" tall, 4-1/2" seating area.
E-5350 Round column 4"
E-5351 Center Column Cup
E-5165 Center Base CAP
Click here for Other Floor Lamp Components
Click here for Table Lamp Bases
To order, or obtain further information, please call
Hannah Murphy Lamps & Lampshades
Across-The-Board Woodworks
Toledo, Washington
1-888-640-LAMP (5267) toll free (Pacific Time Zone) 9 a.m - 6 p.m. Monday-Saturday
We accept VISA & MasterCard payments directly
Call first to obtain shipping charges and availability of items.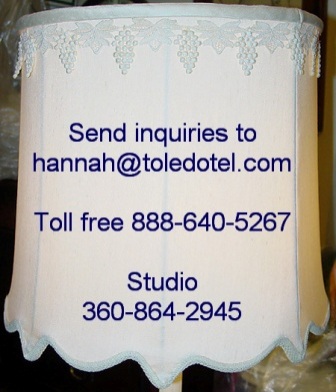 (that's where all the other links are located)