Floor Lamp & Bridge Lamp Components page 2
Floor Lamp & Bridge Lamp Components
Here you'll find almost anything you need to build a new, or repair an old floor lamp, bridge lamp, or torchiere lamp. We carry a large inventory, but if we don't have it, we can usually order it for you and have it within a week.
Click here if you're looking for Table Lamp Parts
Hannah Murphy Lamps & Lampshades
Order line: 1-888-640-LAMP (5267)
We accept directly

credit card payments.
Other credit card payments are accepted only through PayPal. Call first to determine shipping charges.
We don't have a shopping cart or order form on our website on purpose. We'd like to talk to you to make sure the items you order will meet your needs for your particular lamp project. If something is not the right size, Return shipments are costly for you and for us, so we want to make every effort to get it right the first time!

Click on any picture to enlarge
Bridge Lamps
click on these links to see more Bridge Lamps
Swivels for Bridge Lamp
Click on pictures to enlarge

Standard Swivel
comes with extra 1/8 IP 3/8" long nipple to attach to socket cap.
Unfinished Brass $8
Antique Finish $10

Click on picture to enlarge
Wing Nut Swivels for Bridge Lamps
1/8 IP nipple end attaches to socket cap
Unfinished Solid Brass $11
Antique finish Brass $12
Old-style swivels attached to socket cap are no longer available.

Medium Brass Swivel
Brass $12; Add $2 more for antique finish
Brass Ratchet Swivel $25
Tapped 1/8F x 1/8F each end
Add $2 more for Antique Finish

Click the catalog picture link above to see many more bridge arms in stock
(click on picture to enlarge)
Most Popular 2-1/4" Glass Holder

Click on picture to enlarge
Shown in Unfinished Brass $9.00
Add $2 for antique finish

Husks
Brass Swing Arms
A681 8" DISCONTINUED
A682 10" when fully extended
Click on pictures to enlarge
Cluster Assemblies -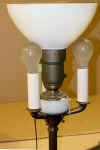 This is an antique, but we have new replacement parts for the Candle Sockets, 3-way Mogul socket, Mogul socket holder, 10-inch Reflector Bowl, Rotary Switches, large Mogul Bulb, and Candle Covers, Candle Plates (Bobesches)
If you need a complete 3-arm Cluster assembly for this type of lamp, we also carry them.
This is an old Mogul Reflector Candelabra floor lamp to show the configuration of 3-arm cluster lights, center holder (holds the Mogul socket), and 10" reflector bowl sitting in the holder. This requires a lampshade with "reflector wires" - little humps in the top cross wires which fit over the top edge of the bowl.
Click here for another very nice restored Vintage Mogul Floor Lamp for sale

Click on picture to enlarge
3-Way Rotary Switches for traditional floor lamp
Operates the 3 arm lights on old floor lamps.
2-circuit, 4-position: Off -L1-L2-L1+2
Floor Lamp Shade

A shade with large opening at the top is recommended for the light bulb heat to escape. A large 3-Way Mogul bulb can create too much heat for a shade with small opening. This could be a fire hazard, or at the least - it will shorten the life of your lampshade by discoloring and drying it out causing it to disintegrate.
Click here for Lampshades for Floor Lamps
or here for Lampshade Restorations

Bobesches for Floor Lamp Candle sockets
Click on any picture to enlarge to full size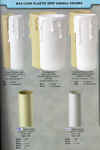 we usually have a good supply of these 4" cardboard covers for floor lamp candle sockets - white and beige color.
Candle Covers - Call for availability & prices

(style used most often for traditional floor lamp sockets is the 30759A Leviton Brand)
Click on pictures to enlarge to full size
Heavy Duty Steel Floor Lamp Pipe
with one inch of 1/4 IP thread at each end
click here for Lamp Pipe Size chart
42" $10.00
46" $11.00
48" $12.00
50" $13.00
52" $14.00
54" $14.50
55" $15.50
58" $16.00
60" $18.00
Shipping tube box $16 - $20 depending on destination
Short Brass Pipe & Bent Arms
(call for prices & availability)
Bent Figurine Pipes are special order. There are too many types and sizes for us to keep them all in stock.
TUBING FOR FLOOR LAMPS
Almost all manufacturers have quit making brass tubing because of the high prices for metal. We're fast depleting our inventory!
Click on pictures to enlarge to full size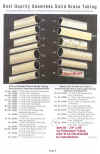 Some Brass Tubing left in stock: (call for current prices - they've doubled in the last year because of volatile metal prices!)
3/4" Embossed Ivy, Brass (discontinued by manufacturer)
1" Embossed Ivy, Brass
3/4" Reeded, Unfinished Brass
1" Reeded, Unfinished Brass
1" Reeded, Brass, polished & lacquered
1" Aluminum, antique brass finish
1" Smooth Brass, polished & lacquered
1-1/4" Aluminum, antique brass finish
Brass Rope, Brass Twist, Brass Hexagon
NOTE: Evidently, the last manufacturer of brass tubing in the United States finally bit the dust! We can't find a tubing supplier anywhere in this country! We still have a limited supply, but when it's gone, we can't get it anymore unless we want to buy a whole boat load from China! (and we don't.....)

Floor Lamp Bases
For more bases, click here:
more Lamp Bases for Floor Lamps

click this link for Lamp Columns
Click on any picture to enlarge to full size
Click on any picture to enlarge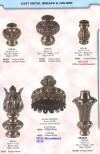 Most of these cast metal pieces have been discontinued by manufacturer - call for remaining stock.
Lamp Breaks
click this link for more Breaks and Lamp Breaks

Almost all of our Onyx comes from Pakistan. We've had trouble getting the sizes we want to use for lamp building. Call to see if we still have what you need.

Click on any picture to enlarge to full size
for 3-candelabra with Large Mogul socket Floor Lamps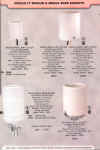 Mogul Sockets
For Other Sockets, click here: Sockets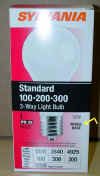 Large Base Mogul 3-Way Bulb $9

D351 $6
Mogul Socket Reducer (allows use of regular medium base light bulb)
Note: You lose 3-way capability when using this reducer.
Socket Holders
Click on any picture to enlarge to full size
Other Socket Holders for 2-1/4" fitter Glass

Item 10928u Unfinished Brass ($25.00) shown on left holds standard medium-base size turn-knob socket. Shown here with a Neck Adapter ($6.00) 1/4F IPS bottom, 1/8M IPS top (bottom fits standard 1/4 IPS floor lamp pipe size; top fits standard 1/8 IPS socket.) 10928AB antique finish, $30.00.
Item E463 shown on right is 5" tall, and only holds a Mogul socket. Hole in bottom slips over 1/4 IPS pipe. Will not accept a standard medium-base socket, as the turn knob does not line up with hole in side of the holder. $20.00
click this link for large selection of
There is a vast difference in quality of sockets. The "Deluxe" sockets shown below are much heavier than standard, and much easier to assemble & disassemble, compared to the Regular snap-in type socket. The shell is threaded on both ends. The captive ring slips over the cap, and threads onto the top of the shell after it is wired. Couldn't be easier! If you've ever had to disassemble a regular snap-in socket, you'll really appreciate this feature. The old stand-by "regular" snap-in socket is fine, until you get ready to take it apart. Nine times out of 10, you'll ruin the socket trying to pry off the cap or when applying pressure where it says, "Press Here". The Deluxe socket solves this problem, and is well worth the price difference.
Electrical Cord Sets

Available in 8', 12', 15 or 16' lengths
Click on any picture to enlarge
Reproduction of Vintage Cord Plug with Oak Leaf imprint - Brown $6.00

Supply Limited
Click on picture to enlarge


Torchiere Lamp
click here for more pictures of Torchiere Lamp
click on pictures to enlarge to full size
click here for Seating Rings, Washers, Nuts, Bolts, etc. Miscellaneous Lamp Parts
click here for Shade Holders for Bridge Lamp Glass Shades
click here for Glass Lampshades for Bridge Lamps
New links: New Lamp Parts Vintage Lamp Parts Previous Page
send e-mail to: hannah@toledotel.com
Back to Hannah Murphy Lamps & Lampshades Home Page