Glass Shades for Bridge Lamps
Hannah Murphy Lamps & Lampshades
Toledo, Washington Toll-free 888-640-LAMP (5267
Glass Shades for Bridge Lamps
All Glass Shades are shipped by UPS or Priority Mail, Insured. Even though we pack them all the same, very carefully, our experience has been that if the package is NOT insured, it will arrive broken almost every time! It is well worth the extra money to insure any glass shipment. UPS charges extra fee for residential delivery. Large glass shades are double-boxed for protection in shipment. An additional $5 is charged for packing materials for packages 16" and larger. We use a lot of bubble wrap, foam peanuts, & styrofoam spacers to protect the delicate glass. Call to learn costs for shipping and insurance by either method.
NO RETURNS OF CUSTOM-ORDER GLASS ITEMS - MEASURE CAREFULLY!
Glass Shades for Bridge Lamps

Click on pictures to enlarge
Some of these may no longer be available from manufacturer - Call 1-888-640-LAMP (5267) for availability
Click on pictures to enlarge to full size
Excellent replacement glass for Jadite or Vaseline Glass Bridge Lamps

$49
Only 1 left in stock - can't get any more. Manufacturer has discontinued this beautiful piece!
This one is destined to become a Collector's Item!
Reverse Painted Glass Bridge Lamp Shades in stock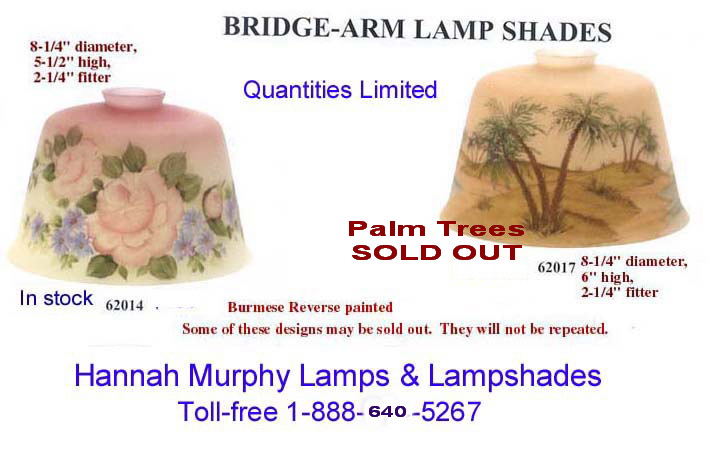 Click on pictures to enlarge
Burmese Rose $179.00
Click on pictures to enlarge to full size
*

* * * * * * * * * * * * *
"Rambling Leaf" Embossed Satin Crystal Bridge Lamp Shade $49.00

2-1/4" fitter x 6-1/4" diameter bottom, 5-1/2" tall
Also available in pastel pink cased glass $67.00

Click on pictures to enlarge to full size
Satin Opal shown below has been discontinued

Click on pictures to enlarge to full size

Click on picture to enlarge
Pink Etched Satin Glass 61556
4-3/4" high, 2-1/4" fitter, 6-1/2" spread
Click here for Glass Shade Holders
We accept

credit card payments directly. Any other credit card payment can be made through PayPal at https://www.paypal.com. Call us first to determine shipping and insurance charges.