Brass Bird Bridge Arm 17" long
Click on picture to enlarge

$45.00
$50 with Antique Finish
Brass Double Bridge Arm
Click on picture to enlarge

$79.00
with Antique Finish, $89
Iron, with Black Satin finish, Double Bridge arm
Click on picture to enlarge

19-1/2" wide, 10-1/4" tall
$69
Northwind - Limited Supply
8-3/4" tall, 12" wide
Brass, polished and lacquered finish $65
Brass with antique brass finish as shown above $69
Thumbnail pictures.... click on pictures to enlarge.
New Art Deco bridge arm - Cast Brass

$69
Click on pictures to enlarge

Wing Nut swivel is required for arms with horizontal hole in end of arm.
Click here for Other Swivels
Click on any picture to enlarge
NEW Brass Bridge Arms
Click on each catalog page to enlarge to full size
Prices shown on pictures below
Brass Bridge Arm #A2850 "Flower Leaf"- Out of Stock
12" long, 6" high
(lamp and shade not included)
Add $5 if you want hand-applied antique finish to any brass polished & lacquered or unfinished brass bridge arm
Click on each picture to enlarge

#2681
$69

#4012
$69

#2862
$69

#2860 $69

#2864
$69

Brass, polished & lacquered

#4196
$69

#4020
$69

Cast Brass
Dragon $75.00
Bellflower $69.00
Scroll $69.00
Victorian Crown $69
Angel $69
click on above pictures to enlarge

All Cast Iron
Viking Ship $39
Bellflower $39
Horn of Plenty $39
Discontinued Arms: Regal Lion
Black Knight - Out of Stock


All Cast Iron
Parrot $49
Angel $39
Double Arm $69
Weathervane & Dolphin Discontinued

$69 each
Unfinished Cast Brass (dull finish) Art Deco, Bellflower, Leaf Design, and Curly-Cue (Scroll)
For hand applied antique finish, add $5

Bellflower (iron) $39

72091 High Polished & Lacquered Brass Tapped 1/8 IP x 1/4 IP, 12-1/2" long $69

Victorian Crown $69 Brass, polished & lacquered
Add $5 for antique finish
Also one Cast Iron left $59

Viking Ship $39
cast iron

Horn of Plenty, cast iron, Sold Out - Discontinued
NOTE:
Die-cast metal will break! Extra care is required when working with this material, as it is not repairable!

Die Cast Metal Flowers, plated and lacquered or raw
$24

58165 Die Cast Metal, Brass Plated & Lacquered Finish 11" tall, 10" wide, top 1/8 IP x 1/4 IP bottom $35

DISCONTINUED
M1508 Antique Brass finish, or plated & lacquered 8-1/4" spread, 9-1/2" high, overall width 13" Base tap 1/4 IPS, Arm tap 1/8 IPS

Sold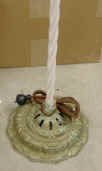 Sold



SOLD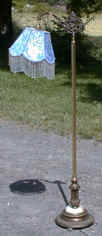 SOLD
Click here for custom sewn silk Bridge Lampshades
Our shop is running over with just about every old or new part you could need for a floor lamp, bridge lamp, or table lamp. This is only a few of the pieces we have. Be sure to visit these links: Vintage Lamp Parts and New Lamp Parts and Floor Lamp Columns for specific pieces. Some of the United States' largest lighting suppliers furnish all of our new lamp parts. If you don't see what you want, it could be in our inventory even though it's not pictured here. If you're looking for something unusual, contact us to see if we have it, or can order it for you. Fast, courteous service at reasonable prices. 1-888-640-LAMP (5267).
These are thumbnail pictures... click on each page to enlarge it

Click here for more Lamp Bases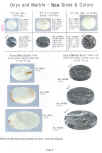 Click these pictures to enlarge

Other Lamp Bases for Table Lamps & Floor Lamps
Page 1 Victorian Lampshades
Page 2 Victorian Lampshades Thumbnail pictures
click on any of these pictures for larger image