Dragon Bridge Lamp
Hannah Murphy Lamps & Lampshades
Toll-free Order Line 1-888-640-LAMP (5267)
Also see links to Vintage Lamp Parts New Lamp Parts Floor Lamp Components
More Floor Lamp Components (Onyx, Tubing, etc.)
Dragon Bridge Arm #11985, shown with "Ivy" tubing and Royal Loop Sugar Shade
(Shows "Ivy" Tubing in 3/4" diameter. Also available in 1" diameter for additional cost)
NOTE: Evidently, the last manufacturer of brass tubing in the United States finally bit the dust! We can't find a tubing supplier anywhere in this country! We still have a limited supply, but when it's gone, we can't get it anymore unless we want to buy a whole boat load from China! (and we don't.....)
Base #10078 with 5" Onyx insert and Antique Brass Finish Column #11427

Royal Loop Sugar Shade with Bead Fringe $225, With Chainette Fringe $179,
Dragon Bridge Lamp without the Shade - call for prices
*************
Another version of Dragon Bridge Lamp with Lancelot uno shade
7/8" Ivy Embossed Brass Tubing, hand-applied antique finish on all components
Click on pictures to enlarge
Base shown on Dragon Lamps above no longer available
We're now using #10075 Base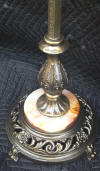 We accept

credit cards directly. We also accept other credit card payments only through PayPal. Call us first to determine shipping charges.
We also accept checks and money orders. To place an order, call us toll-free, or send e-mail to hannah@toledotel.com
: