Reverse-Painted Glass Lampshades
Reverse Painted Glass Lampshades
Hannah Murphy Lamps & Lampshades
Order line: toll-free 1-888-640-LAMP (5267)
All Glass Shades are shipped by UPS or Priority Mail, Insured. Even though we pack them all the same, very carefully, our experience has been that if the package is NOT insured, it will arrive broken almost every time! It is well worth the extra money for insurance on any glass shipment. UPS charges extra fee for residential delivery. Large glass shades are double-boxed for protection in shipment. An additional $5 is charged for packing materials for packages 16" and larger. We use a lot of bubble wrap, foam peanuts, & styrofoam spacers to protect the delicate glass. Call to learn costs for shipping and insurance by either method.
Handel Style Reverse-Painted and Tiffany Style Glass Lampshades
Most have been discontinued.
Reverse-painting artists have all retired or died. We can't get these beautiful shades anymore.
Call for availability

Click on picture to enlarge - shape depends on diameter of shade
click here for Victorian style Lamp Bases - Tiffany & Handel reproductions
click here for Brass Floor Lamp for 16" glass shade
STAINED GLASS TIFFANY STYLE SHADES
Arts & Crafts style stained glass shade designed with a light caramel color honeycomb pattern on the top and a pale pink and green stylized border. The vented heat cap has a slip 1/8 IP (3/8" dia.) center hole.
Only 1 Left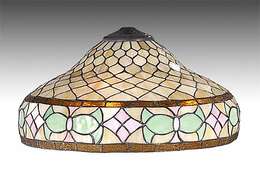 16" Diameter in Stock $369.00 plus shipping & insurance estimated $40
* * * * * * * * * * * * * * *
Bronze color Brass Heat Caps, Aperture Rings & Finials for glass shades
When our current inventory is sold out, we can't get these anymore

Click on picture to enlarge
22622 2-5/8" (for 2-1/2" outside diameter top opening on glass shade) $7.50
22621 3-1/4" (for 3" outside diameter top opening on glass shade) SOLD OUT - Discontinued
22620 4" (for 3-5/8" outside diameter top opening on glass shade) $11.50
Center hole slips 1/8 IPS pipe (3/8" diameter)

Click on picture to enlarge
11281B Tiffany & Handel Style Brass Finial , tapped for 1/8 IPS pipe (3/8") OUT OF STOCK - DISCONTINUED
Reverse-Painted Glass Lampshades Hand painted

Click on pictures to enlarge
Click here for Reverse Painted shades for Bridge Lamps