Bridge Lamp Components Suggestions
Hannah Murphy Lamps & Lampshades
Order Line toll-free 1-888-640-LAMP (5267)
Click on any of the pictures to enlarge to full size
We accept directly

credit card payments.
Other credit card payments are accepted only through PayPal. Call first to determine shipping charges.
UL listed components.
Our Bridge lamps are sold as Kits for you to easily assemble, using components you select from a wide variety of components.
Configurations are endless! Call to discuss possibilities. 1-888-640-LAMP
You select the components, we put it together and take pictures to show you what finished lamp will look like. Upon your approval, we pack each component carefully and ship in two parcels - one with the Center Pipe and Outer Tubing, the other with the rest of the lamp components. If a shade is ordered at the same time, it will be shipped in a 3rd package.
Shipping a fully-assembled floor lamp is quite costly, and potential for damage in shipment is much greater.
Shipping components as a Kit saves quite a lot on shipping charges, especially now that UPS, FedEx, and the Post Office rates are all figured on distance and "dimensional weight" (size of the package) instead of actual weight.
Examples of finished Bridge Lamps shown below
Besides the individual links below, More details and more examples at: Bridge Lamps & Floor Lamps
(click on pictures to enlarge)

Brass "Scroll" Arm
Lancelot shade shown below
Links to all component selections shown below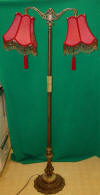 Double Arm (Brass)
Parrot Bridge Lamp (Cast Iron)

"Dragon" Bridge Lamp
The following are links to various choices of components needed. If you get lost in this "maze",
always go back to the Home Page and click on the link back to "Bridge Lamp Components Suggestions" page on the right-hand side of the home page. Click links below for many more components
Custom Fabric Bridge Lamp Shades
Bridge Lamp Frame Styles for Custom Fabric Shades
Bridge Lamp Glass Shades Page 2 Bridge Lamp Glass Shades
Holders for Glass Bridge Lamp Shades
Hannah Murphy Lamps & Lampshades
Across-The-Board Woodworks
Toledo, Washington
360-864-2945 Office
Pacific Coast Time Zone Monday-Saturday 9 a.m. - 6 p.m.