Oriental Style Lamp Shades by Hannah Murphy
Lampshade makers are passionate about their craft. There is no end to the creativity that can be expressed in a custom hand-sewn lampshade. I've heard it said that lamps and lighting are usually the last thing a new home owner thinks about. Even if you're not a new home owner, a brand new feeling will emerge just changing lampshades on your existing lamps.
Many of you have cherished old family heirloom lamps that have been around for generations, and you want to re-create the nostalgic feeling of days gone by. Whether you have a valuable antique lamp, or a recent acquisition, just knowing a lampshade has been made especially for your lamp makes it special. Hannah's custom-made lampshades will become heirlooms by themselves!
She uses only the finest materials available, meticulous needlework, and fabrics, colors, and trims you select. We have over 3,000 lampshade frames in stock - all sizes, shapes and styles. Call for a free consultation with Hannah regarding re-covering and restoration of old lampshades or new lampshades for table lamps, floor lamps, and bridge lamps. We also carry an extensive inventory of repair parts for old lamps, so if you have an old lamp drifting in the attic that needs to be updated, contact us. Check the link called "Lamp Parts & Lamp Hardware Index". Your satisfaction is guaranteed!
Toll-free 1-888-640-LAMP (5267)
Names shown below are the names of the frame used.
Windsongs for Leah
Click on pictures to enlarge
Windsongs for Kathryn
Click on pictures to enlarge
Click on pictures to enlarge
"Tulip Bell"
3" x 9" x 13" Gold/Celery Green Silk Brocade
As shown above, $99 plus shipping and insurance
Click on pictures to enlarge
Custom hand sewn, made in America
Silk/Linen blend, self fabric bias trim
As shown, $179 plus shipping and insurance
Fabric and trims your choice - Chainette or Bead Fringe extra
Oriental flare: "Wind Song" Frame - Suitable for Large Table Lamp or Floor Lamp
click on each picture to enlarge full size
With balloon lining, as shown, $389 - $459 depending on fabrics and trims
"Balloon Lining" = single layer of lining sewn on inside of frame to hide the struts
* * * * * * * * * * * * * * * * * * * * * * *


Customer's Carved Dragon Wooden Floor Lamp
click on pictures to enlarge
Windsong for Donna
with double layer of lining sewn on outside of wrapped struts, before outer silk applied
$359 as shown, plus estimated $45 shipping & insurance
Finial sold separately - $17.00
click on pictures to enlarge
"Shinto" frame, using customer's fabric & trim $289
$359 - $459 if we furnish fabric and trims
Medium "Phair" frame, using customer's fabric
$279 - $329 depending on fabric and trims
Small "Magic Carpet" frame
$195 - $245 depending on fabric and trims
Bluebell Frame
$259 - $299 depending on fabric and trims
(click pictures to enlarge)

Another version of the Bluebell frame, with Bead & Tassel Fringe

'Lotus Song' frame
Pagoda II frame (very large)
$425 - $550 depending on fabric and trims
Click on small pictures to enlarge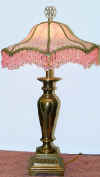 "Straw Hat" frame
$249 - $299 depending on fabric and trims
Medium sized Cut-Corner Rectangle frame
$229 - $289 depending on fabric and trims

"Mongoose" frame
$269 - $299 depending on fabric and trims
Oriental Finials - Brass and Genuine Netsuke Carved Resin
Click on small pictures to enlarge
Back to Home Page
www.lampshademaker.com