Possibilities
Karen
Pagoda II Finished
Click on pictures to enlarge
Click on pictures to enlarge
10" High, 20" diameter at widest "roof peaks"
Bottom Gallery sections: 9" wide
Cupola on top 4" diameter
Components for Mic Stands for John
Click on pictures to enlarge
#2 Black Marble pieces with 1" Reeded Brass Tubing
Click on pictures to enlarge
#1 Onyx pieces with Antique finish Brass Tubing
Mermaid Lamp & Shade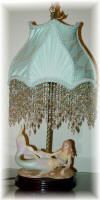 Light Off
Click on pictures to enlarge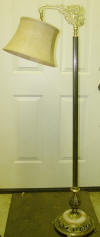 Bridge Lamp without shade $329 (shipped unassembled)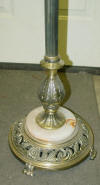 Ready-Made Shade Suggestions
1. Piped Silk Shantung - Off White $49
2. Faux Leather - Fabric Lined $49
3. Pleats on Styrene (hardback lined) $37
Parts for your lamp: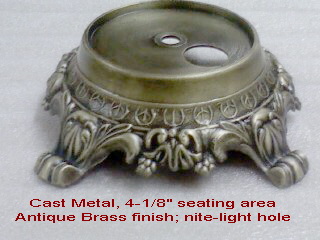 Antique Finish Cast Metal Base with night light hole, 4-1/8" seating area (Only 1 available)
(similar to 50423 which is out of stock indefinitely)
* * * * * * * * * * * * * * * *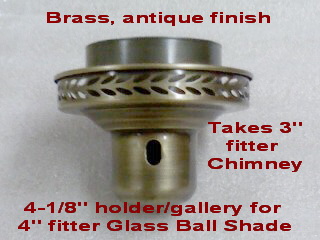 4-1/8"Brass Holder/Steel Gallery for 4" Glass Ball Shade
(takes 3" fitter Chimney)
Eric
Click on pictures to enlarge
David K.
Before

Click on pictures to enlarge
Suggestion: Add "Old Gold" Soutache Trim top & bottom.

* * * * * * * * * * * * * * * * * *

Click on pictures to enlarge
Double Outscallop Frame with Custom Crown (only 2 available)
Click on pictures to enlarge
Top 11-3/4", Bottom 20", 7-3/4" tall plus 1-1/4" Crown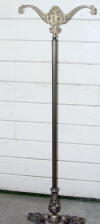 Nick
Brass Double Bridge Arm #A-2, 16" long, 6" high
Click on picture to enlarge

6" Onyx Base with Wireway, with E5505 Brass Base on top
E5505 Brass Base slips 1/8 IPS table lamp pipe, has seating area of 1-3/4", is 1" tall, with overall diameter including feet 4-1/8" shown here with hand-applied antique finish and lacquered.
Click on pictures to enlarge

Royal Loop frame on Angel Bridge Lamp

Oval
Click on pictures to enlarge

Royal frame for bridge lamp
6-1/2" Top, 12-1/2" bottom, 10" tall. Fitter recessed 2-1/2" to hide socket. Six panels like "Little Old Lady" frame, with reversed scallop gallery.
Examples of Crystal Lamp Bodies and Bases
Click on pictures below to enlarge. Dimensions are shown.
6" Bases are in stock in both styles.
Crystal Body styles #60531 & #60533 are in stock.
Lamp built with either style crystal and base,
Your choice of the following:
On-Off Switch, U. L. approved Leviton brand, Brass: Push-thru, Pull Chain, or Turn-Knob. Caution: 3-Way Sockets can be used, but only if your shade will have at least 3" clearance between the bulb and the shade. Lampshades should have minimum 5" opening at the top, 10" at the bottom to allow heat to escape. I don't recommend 3-Way sockets that normally use high-heat light bulbs. Besides being a potential safety hazard, it will also discolor and dry out the fabric, which will eventually ruin the lampshade. (I use 40- or 60-watt light bulbs with silk Victorian fabric shades, depending on the size of the lampshade.)
Cord: 8-foot or 12-foot, Gold, Brown, White, or Black.
Heavy-Duty Brass Harp: Sizes available: 9, 9-1/2, 10, 10-1/2, 11, 11-1/2, 12 or 12-1/2
The lampshade shown next looks fabulous on a Crystal Lamp
Swallow with Crown

Bottom row - same shade with silk chiffon rosettes

Custom-dyed brocade or Silk Jacquard, with matching braid, 6" translucent bead fringe

(click for larger images)

$400 without Rosettes

$475 with Rosettes
These are all thumbnail pictures...
click on images to see larger pictures.
Green Rice Paper $49
Another Uno fitter hardback lampshade


Left: Gullwing frame approx 5" x 8" fancy top, 14" x 24" fancy bottom, 8" high. Front and back have rosette areas and 4 leaf-like panels.
Right: Vader frame - 4"top x 10" x 17" bottom x 6" high including 1" cuff at bottom.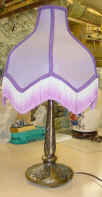 Lyre & Flowers Lamp with Gatsby shade
Gatsby shade
Lyre & Flowers Lamp without shade $179 (last one in stock)
"Gish" frame, 2.5" top, 12.5 x 14.5" bottom, 7.5" tall
Left = Front view, Right = side view.

"Mongoose" frame, 6-1/4" top, 12 x 16" bottom, 8" tall

Inverted Scallop 8-1/2" tall
Medium = 14" bottom; Large = 16" bottom

"Jing", or "Double Scalloped Bell" frames - All three sizesSmall "Jing" = 6" top, 11" bottom, 9" tall; six panels

Medium "Jing"

measuring from the lowest dip in the scallops, 8" top, 15-1/2" bottom, 12" tall, six panels
Large "Jing"
10" top, 16" bottom, 15-1/2" tall. Washer top recessed 2". 8 panels.