Hannah Murphy Lamps & Lampshadestm
Handcrafted Wood Lamps by Jeff Ripley
Lampshades by Hannah Murphy
More Wood Lamps Hardback Lampshades Victorian (brass) Lamps
Hand-Sewn Victorian Lampshades & More Victorian Lamps
Back to Home page - Hannah Murphy Lamps & Lampshades
Shop (360) 864-2945 Orders/Inquiries 1-888-640-LAMP (5267)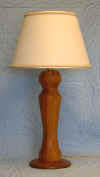 'Webol'
All lamps are fitted with UL listed and approved components. They are available with standard push-thru type switch or 3-way switch. Cord colors are Gold, Brown, or White - 8' or 15-foot. Felt is applied to bottom of all lamps.
A photo doesn't do this beautiful work justice! You have to see them to believe it! (Click on pictures to enlarge.)
These majestic pieces of artwork will make a beautiful, bold statement in your home.
Mahogany, Cherry, Walnut, Maple, Oak, or a combination of hardwoods can be used. Lamps on this page are furnished with shade shown, but you may choose any feature, shade, or color you desire. Customer pays shipping; WA residents add 7.7% sales tax.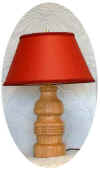 'Milk Bottle'
Mahogany 'Webol' 5/4" laminated, 19"; 30" tall from base to top of shade. 8" base plate, 4-1/2" across widest part of body. Shown with Fine Muslin Shade 10" x 16" x 11"trimmed with Grosgrain Ribbon and French Braid. Cord is 8' Gold color. Push-Thru Switch.
Oak 'Milk Bottle' 1" laminated, 11". 23" to top of shade. 5-1/2" across widest part of body. Red Shade is 8" top x 14" bottom, 8" long, trimmed with Grosgrain Ribbon and matching French Braid. Brown 8' Cord; Push-Thru Switch.
Sometimes a new shade is all it takes to make an old lamp useful again. We can re-cover your old lampshade frame or make a shade using a new frame, a different shape perhaps. Many frames, materials and fabrics available. If you're a Quilter, and have fabrics left over from a quilt you've made, we can use your fabric to make a matching lampshade for your bedroom lamp. We use matching color Grosgrain Ribbon on top and bottom wires - not paper tape like you see in discount stores. If item description and prices are not shown, click on e-mail link to request more information.
More Wood Lamps Lampshades Victorian Brass Lamps Back to Home Page