Bridge Lamp Shade Frames, Make-Your-Own Lampshade Kits
Hannah Murphy Lamps & Lampshades
Here are some of the 50+ different bridge lampshade frame styles we stock.
Across-The-Board Woodworks, 167 Foster Creek Road, Toledo, WA 98591
Click here for Glass Shades for Bridge Lamps
Click here for all Uno fitter frames in stock
click here for Victorian Lampshade Supplies & Materials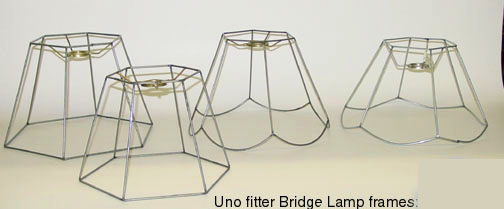 Click here for more Bridge Lampshade Frames Lampshade Frame Prices
Click on these pictures for larger images
6" x 12" x 8" with Uno fitter recessed

Ivory Linen on Styrene

$59

Scalloped Hexagon Uno fitter recessed

Roses Printed on Parchment over Styrene

Discontinued

Off-White Pleated fabric over styrene, Uno fitter recessed

$59
We try to keep several of these standard uno-fitter shades in stock, but they sell quickly. This style shade can be made using several different designs of laminated styrene, or I can use your own fabric on pressure-sensitive styrene. Call me today toll-free at 1-888-640-LAMP (5267) to talk about it.
MAKE YOUR OWN USING ONE OF OUR HARDBACK LAMPSHADE KITS!
Large Lampshade Frames Simple Lampshade Frames
23-page lampshade frame catalog: Lampshade Frame Catalog